Columbia Police Chief W.H. 'Skip' Holbrook announces that officers have outstanding arrest warrants for a 33-year-old woman accused of vandalizing a downtown church.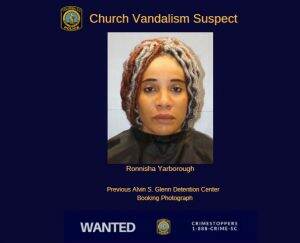 Property Crimes investigators are searching for Ronnisha Evette Yarborough. Once arrested, she will be charged with Malicious Injury to a Place of Worship.
Yarborough allegedly defaced the outside of First Baptist Church located at 1306 Hampton Street with graffiti. The discovery was made at approximately 8:30 a.m. on April 14, 2019.
The spray-painted graffiti included triangles, hearts and the number 3 on walls, windows, and the sidewalk.
Citizens with information on Yarborough's whereabouts are encouraged to contact Crimestoppers in any of the following ways: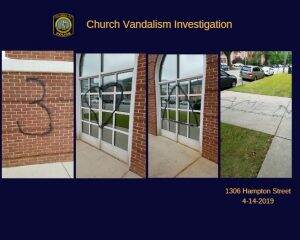 CALL toll-free, 1-888-CRIME-SC.
LOG onto: www.midlandscri
mestoppers.com, and click on the red "Submit a tip" tab.
DOWNLOAD the new P3 Tips App for Apple or Android devices.