What is the Explorer Program?
The Columbia Police Department (CPD) Explorer Program is dedicated to the success, training, and overall aptitude of the youth within its ranks. The Explorer Program consists of young adults between the ages of 14-20 years old, who are looking to make a career in law enforcement. The Explorer Program gives these individuals excellent leadership training, mental discipline, focus, team-building skills, superior physical fitness training, and real-world training that will help them in any profession that they desire. The CPD Explorer Program is a fully chartered member of the Boy Scouts of America. Serving as one of its many youth branches, the Explorer program enjoys all the benefits and rights as a Boy Scouts of America member.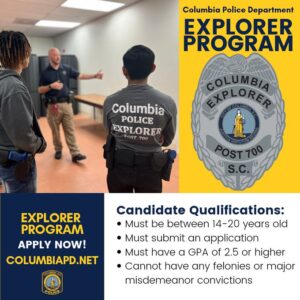 Who leads the Explorer Program?
The CPD Explorer Program is run by fully certified and highly skilled law enforcement officers within the department. These law enforcement officers are responsible for training, evaluating, and recruiting qualified youth into the program. These officers are dedicated to the success and overall well-being of each explorer in the post.
What is the role of a CPD Explorer?
CPD Explorers are an integral part of the police department. They are involved in many community-building roles, support efforts, and any area they are deemed needed. You will see explorers helping out at USC Football games, homeless shelter and food drives, youth mentoring summits, and so much more! Explorers are also trained in the area of law enforcement tactics. Explorers will receive training that is used by certified police officers. Some of the areas Explorers will be instructed include; South Carolina Code of Laws, Physical Fitness, Defensive Tactics, Advanced Tactical Training, First Aid and CPR, Public Speaking, Courtroom Testimony, and much more. Explorers also take part in law enforcement competitions across the state and country. Explorers get to put their skills against another explorer posts across the state in an effort to show their excellence! Each explorer is molded to become a leader from the time they step foot into our program. We are always improving and evolving our program to become the best in the state! Many explorers that reach the age of 21 are usually hired within their governing police department!
How do I become a CPD Explorer?
1) Interested candidates between the ages of 14-20 years old must submit an application of interest to the department (see below).
2) Once the application is received and reviewed, the applicant will be contacted to complete the department's Physical Agility Test (PAT).
3) After satisfactory completion of the test, the candidate will be called in for a panel interview. The interview will consist of law enforcement officers and current members of the explorer leadership team.
4) The candidate will then undergo a background screening and reference check. *Candidates cannot have any felonies or major misdemeanor convictions.
5) Once all this has been completed without any issues, the candidate will be called back in for a final interview where they may be offered a position with CPD Explorers. Candidates that accept the appointment will be placed on a ninety-day probation period where they will be evaluated and taught the basic tenants of the explorer post-mission. After ninety days, they will be accepted as fully-fledged explorer and given their Columbia Police Department explorer patch.
What is the cost to be a CPD Explorer?
Each Explorer must pay a yearly fee of $33.00. This fee goes toward registering them under the charter of the Boy Scouts of America. This also goes toward the insurance that is placed on every individual explorer. This protects them during training, officially approved duties, and during competitions.
Do I have what it takes to become a CPD Explorer?
If you are hardworking, honest, driven, possess team-building skills, and are dedicated, you are on the right track to becoming a CPD Law Enforcement Explorer! The training, camaraderie, and skills you will acquire as an explorer is invaluable. The question is, "Do you have what it takes to face and conquer the CPD Explorer challenge?" If you do, then we are waiting for you. Contact us at (803) 545-3500 and take the first step in becoming a CPD Explorer.
Point of Contact
For additional questions about the Explorer Program, please contact Officer Paturzo at 803-545-3500 or [email protected].
Explorer Program Interest Form
If you are interested in the Explorer Program offered by CPD and would like to find out more, please fill out the form below.