Columbia Police Chief W.H. 'Skip' Holbrook announces that CPD investigators are releasing a composite sketch of what a shooting suspect may look like in an effort to identify the man.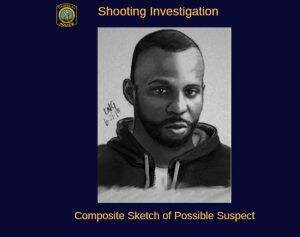 The sketch, courtesy of a forensic artist with the South Carolina Law Enforcement Division (SLED) was made possible with the assistance of a crime witness.
At approximately midnight on June 19, 2019, CPD officers were initially dispatched to the 4400 block of Blossom Street. Upon arrival, they located the 27-year-old male victim outside of an apartment complex with an injury to the lower body. The victim continues to receive medical treatment at a local hospital.
Witnesses reported hearing the victim and an unidentified male arguing moments before the shooting occurred.
The suspect is described as being a tall, slender black male, possibly 30-years-old with a short haircut and well-groomed beard.
Citizens with information about the attempted murder case or suspect's identity are encouraged to contact CRIMESTOPPERS in any of the following ways:
CALL toll-free, 888-CRIME-SC.
LOG onto: www.midlandscrimestoppers.com, and click on the red "Submit a tip" tab.
DOWNLOAD the new P3 Tips App for Apple or Android devices.