Columbia Police Chief W. H. 'Skip' Holbrook announces the arrest of a 28-year-old man in connection with a fatal shooting in North Columbia from earlier this week.
Orlando Gladney (DOB: 11-25-1991) is housed at the Alvin S. Glenn Detention Center (ASGDC) charged with Murder, Possession of a Weapon during the Commission of a Violent Crime, Possession with Intent to Distribute Crack Cocaine, Possession with Intent to Distribute Crack Cocaine within ½ Mile Radius of a School, and Possession of a Scheduled IV Controlled Substance.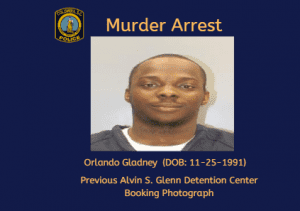 Gladney is accused of shooting his acquaintance, identified by Richland County Coroner Gary Watts as 46-year-old James J. Patterson Junior after an argument at Willow Run Apartments at 511 Alcott Drive on February 3, 2020. Patterson was pronounced deceased at a local hospital after suffering from gunshot wounds to the upper body.
Additionally, during the execution of a search warrant and while questioning Gladney at his Alcott Drive home about the fatal shooting, CPD officers found crack cocaine and Xanax in his possession.
All persons arrested/charged are presumed innocent until or unless proven guilty in a court of law.