Columbia Police Department officers arrested a male suspect during a traffic stop after a cell phone store armed robbery.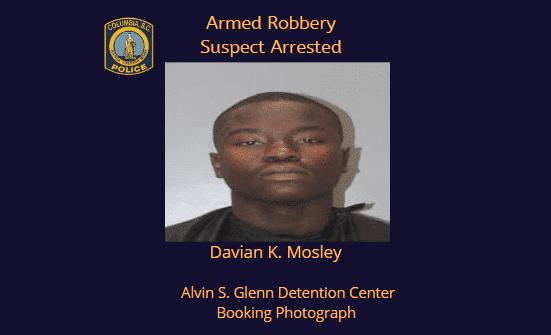 As a result, 20-year-old Davian K. Mosley was charged with Two Counts of Armed Robbery, Two Counts of Kidnapping, Possession of a Firearm during a Violent Crime and Possession of a Stolen Handgun. Mosley is accused of demanding cash and several cell phones at gunpoint from two employees at Cricket Wireless on Bush River Road on January 22, 2021. After the crime, Mosley allegedly forced the victims to stay at the back of the store while he attemted his getaway.
Witnesses in the area gave CPD officers a detailed description of the suspect and clothing, including the vehicle he used to leave the scene. After receiving that description from dispatchers, a CPD officer found the car near the crime scene and initiated a traffic stop.
Mosley was found inside the car with large amounts of cash in his pants pockets and bookbag, numerous cell phones and the firearm used to commit the crime. The handgun was also reported stolen out of Richland County.  All of the items were seized as evidence.
After the traffic stop and arrest, Mosley was taken to CPD Headquarters for questioning by CPD investigators and charged with the armed robbery incident.
At last check, Mosley was still housed at the Alvin S. Glenn Detention Center (ASGDC) under a $25,000 surety bond set by a judge.
All persons arrested/charged are presumed innocent until or unless proven guilty in a court of law.