Columbia Police Department (CPD) officers have arrested a 17-year-old male on multiple charges after a foot pursuit in North Columbia.
Preliminary Information:
Shortly after 5:00 p.m., the teen is accused of stealing a woman's car from a North Main Street home as she attempted to put her child in a car seat. The teen pushed the victim but thankfully did not cause any injuries to her or the child.  9-1-1 dispatchers were able to alert officers about the incident, including providing the car's description over the police radio.
After the crime, CPD officers spotted the car that matched the description provided and initiated a traffic stop. The driver failed to stop for police and in his attempt to elude officers, crashed into a residence at the Colony Apartments.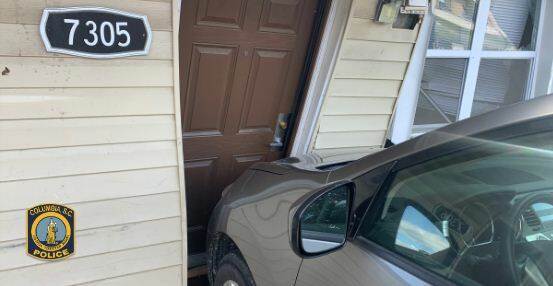 Despite residents being home at the time, there were no reported injuries. After the crash, CPD officers chased the suspect on foot and captured him close to the collision site.
The teen is currently charged with Failure to Stop for Blue Lights and Sirens,Failure to Stop on Police Command,  Hit and Run, and not having a Driver's License. Pending charges from investigators with the Violent Crimes Against Persons (VCAP) Unit include Strong Arm Robbery and Assault-First Degree. After an interview process with CPD investigators, the teen will be housed at the juvenile section of the Alvin S. Glenn Detention Center (ASGDC).
All persons arrested/charged are presumed innocent until or unless proven guilty in a court of law.