Officers with the Columbia Police Department's (CPD) Organized Crime and Narcotics Unit (OCN) have seized a significant amount of narcotics and cash after the arrest of two suspects.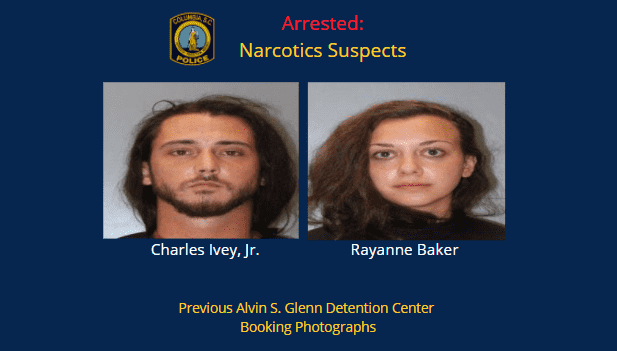 29-year-old Charles Ivey Junior and 22-year-old Rayanne Baker have been charged with  Trafficking Marijuana, Possession with Intent to Distribute Marijuana in Close Proximity to a Park/School, Possession with Intent to Distribute THC Hash Oil, and Possession of Mushrooms.
After executing a search warrant at a home on Devine Street this week,  CPD officers found and seized approximately 18.5 pounds of marijuana worth an estimated $55,500 dollars (at approx. $3,000 per lb.), 130 grams of mushrooms, more than 10 grams of hash oil and more than $3800 in cash.
The suspects were housed at the Alvin S. Glenn Detention Center on Tuesday, May 11, 2021 and have since been released from jail on a $40,000 personal recognizance bond set by a judge.

The South Carolina Law Enforcement Division (SLED) assisted with the investigation.
All persons arrested/charged are presumed innocent until or unless proven guilty in a court of law.