Columbia Police Chief W. H. "Skip" Holbrook announces the arrest of a 34-year-old man accused of exposing his genitals to a teenage girl in public.
Brandon Aquil Hamed Eggleston turned himself in to Columbia Police Department (CPD) officers last night and was charged with Indecent Exposure and Impersonating a Law Enforcement Officer.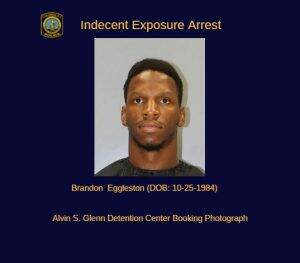 Today in court, a judge set Eggleston's bond at $50,000, banned him from visiting any Richland County public library and required him to wear an ankle monitor. Eggleston is currently housed at the Alvin S. Glenn Detention Center (ASGDC).
The initial charge stems from an August 5, 2019 allegation at 1431 Assembly Street (Richland County Library).
Eggleston is accused of exposing his private parts to a 14-year-old female. The child reported the incident to her mother who in turn notified library staff. Library officials immediately notified CPD officers.  Surveillance video aided CPD Special Victims Unit (SVU) investigators with the case.
A police bulletin for Eggleston's arrest was issued within CPD and surrounding law enforcement agencies on August 6, 2019.
In a separate incident on August 4, 2019 a CPD officer was on patrol at Tamarind Apartments located at 143 Stoneridge Drive.
At that time, Eggleston is accused of approaching a CPD officer and falsely presenting himself as a courtesy officer at the complex and working as a Deputy for the Sumter County Sheriff's Office.
After the indecent exposure incident and with the information regarding Eggleston's likely whereabouts at the apartments, CPD officers made several attempts to locate him for an arrest.
Citizens with information regarding this incident or similar incidents should contact Crimestoppers at 1-888-CRIME-SC or CPD's main line at 803-545-3500 — Ask to speak to an investigator with the CPD Special Victims Unit.
All persons arrested/charged are presumed innocent until or unless proven guilty in a court of law.