Columbia Police Department (CPD) investigators have charged a 29-year-old female in connection with the death of a missing person.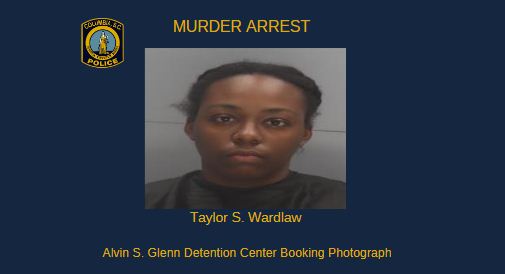 According to Police Chief W.H. "Skip" Holbrook, Taylor Wardlaw is charged with Murder and Possession of a Firearm during of a Violent Crime. Wardlaw is accused of fatally shooting a male acquaintance multiple times.  The suspect is currently housed at the Alvin S. Glenn Detention Center (ASGDC).
After conducting an autopsy today, Richland County Coroner, Naida Rutherford has identified the victim as 26-year-old Terrell Sims. CPD investigators found his body near a creek off Monticello Road yesterday afternoon with the assistance of the South Carolina Law Enforcement Division (SLED), South Carolina Department of Natural Resources, the South Carolina State Fire Academy, the Richland County Sheriff's Department (RCSD) and the Columbia-Richland Fire Department (CFD).
On December 22, 2021, Wardlaw reported Sims as missing from an Ervin Street home. Since that time, investigators have worked exhaustively perusing leads. During the investigation, CPD investigators  has reason to search several locations ultimately resulting in locating the deceased victim.
Additional arrests and/or charges related to the case are possible.
All persons arrested/charged are presumed innocent until or unless proven guilty in a court of law.