Columbia Police Department (CPD) investigators have arrested two males in connection with last night's fatal shooting on Farrow Road.
Police Chief W.H. 'Skip' Holbrook announces that 19-year-old James Oxendine, Junior is charged with Murder and Possession of a Weapon during a Violent Crime. 27-year-old Sheldon Turner is charged with Accessory After the Fact of Murder. Both suspects were arrested overnight and are housed at the Alvin S. Glenn Detention Center (ASGDC).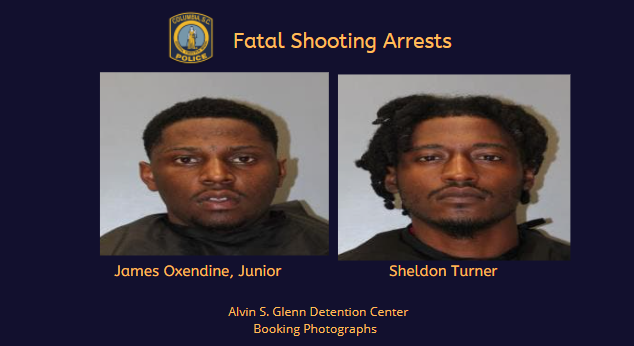 Oxendine is accused of shooting the 18-year-old male victim identified by Richland County Coroner Naida Rutherford as Caleb Martin shortly before 7:30 p.m. (March 15, 2021) at the EZ Spot convenience store (3213 Farrow Road). Martin was pronounced deceased by medical staff at a local hospital.
Turner is accused of knowing about the crime, driving Oxendine away from the scene and not rendering aid to the victim or contacting law enforcement.
Initially, CPD officers were dispatched to the crime scene after receiving a ShotSpotter alert. When they arrived, they found the victim in the parking lot with serious injuries. Officers rendered aid to Martin before EMS arrived on scene. Ballistic evidence was also collected at the scene.
All persons arrested/charged are presumed innocent until or unless proven guilty in a court of law.